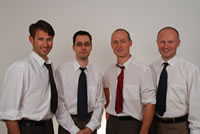 Petr Hanzlík (leader), Petr Jindra, Pavel Švestka, Jiří Hruška. The well-known Prague vocal quartet The Swings represents a unique and original type of musical amusement in the Czech Republic – stylish polyphonic jazz singing inspired by the golden era of swing. This coming season the quartet will be celebrating the 20th anniversary of their existence on the Czech and European musical scene. The lively and amusing as well as professional and cultivated performances of the quartet offer American and Czech swing classics.
The members of the quartet participated in the creation of the Melody Makers of Ondřej Havelka, they have also cooperated for example with the Bohemia Big Band, the Karlín Musical Theatre, with Milan Lasica and the Bratislava Hot Serenaders and with the Big Band of the Czech Radio. The Swings are always welcome guests on TV and radio programs.
The Swings perform either as an independent quartet, accompanying themselves on the guitar and violin, or with their band, consisting of two to five members (piano, double bass, guitar, percussion and saxophone). Apart from these instrumental combinations the quartet also has its own arrangements for a classic big band.