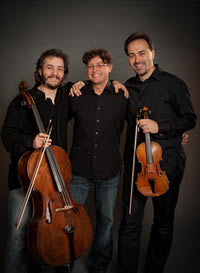 The Kalabis Trio, named after the outstanding modern Czech composer Viktor Kalabis, was founded in 2012 as a joint venture of three solo and chamber players – Ondřej Lébr, Lukáš Polák and Miroslav Sekera. During its brief life the trio has performed at several prestige concert halls and made succesful recordings for Czech Radio. The trio specializes in performing the works of Viktor Kalabis and Bohuslav Martinu as well as other Czech and international 20th century composers; and of course it has key classical and romantic piano trios in its repertoire as well. The trio uses Viktor Kalabis´ name with the kind permission of the composer´s widow, professor Zuzana Růžičková.
Ondřej Lébr first studied at the Prague Conservatoire. Following his graduation from the Prague Academy of Music, he took a postgraduate master course with Ivan Ženatý at the Carl Maria von Weber Music School in Dresden. He gives concerts at home as well as abroad and makes regular CD recordings of violin concertos and chamber works by contemporary American composers for the American labels M.M.C. and Parma Records. These have been highly praised by American reviewers. They are distributed by the international Naxos record company.

Lukáš Polák comes from the Southern Bohemian town of Jindřichův Hradec. He studied the cello at the Brno Conservatoire and then at the Prague Academy of Music. During his studies he took part in several competitions – he was awarded 3rd prize at the international Beethoven Competition in Hradec, followed by similar successes at the Janáček Competition in Brno and the Martinu Competition in Prague, culminating in the 1st Prize at the Conservatoires Competition where he was named the overall winner. He gained further experience at several master courses with renowned Czech and international cellists. Amongst his outstanding achievements are engagements with the Talich Chamber Orchestra, the Moravian Chamber Orchestra and the Academy Chamber Soloists. Between 2004 and 2012 he was cellist in the Škampa Quartet. During the same period he also taught externally at the Royal Academy of London.

As a child, Miroslav Sekera learned both the piano and the violin. This led to his being cast in the role of young Mozart in the Oscar-winning Miloš Forman film ´Amadeus´. Later on he opted for the piano alone, studying at the Prague Conservatoire with professor Eva Boguniová and at the Prague Academy of Music with Miroslav Langer. He has won prizes at a number of international piano competitions. In 2006 he made a CD recital of works by Brahms, Scarlatti and Moszkowski for the Czech Multisonic label. In the USA he made two CDs for the Boston composer Joseph Summer, published by Albany Records. He regularly works for Czech Radio and gives concerts with outstanding orchestras and conductors both in the Czech Republic and abroad.